Frank Reardon: Hello, Bill, how's life?
First off let me say, love Shoot the Moonlight Out. I honestly believe it's my favorite novel of yours that I have read. The novel is a complex story of interlocking characters. How was it writing the novel that way? Also, tell me about the characters. Are they people you once knew in Brooklyn? Maybe bits and pieces of people? And what draws you to write such characters? They seem lost and often defeated by life.
William Boyle: Good to talk to you, Frank. Things are solid. I appreciate the good words about Shoot the Moonlight Out. I like writing that way—bouncing between characters. It's what I most love as a reader and viewer, that kind of tapestry of voices and experiences, characters crashing together in some ways and drifting apart in others, always circling each other. There are bits and pieces of real people in some of those characters, bits and pieces of me certainly, but I'm always inventing from what I know. So, there's no one that's explicitly based on anyone who's real; it's more of a blend of reality and myth and imagination. I think there's always one character in each book who I put a lot of myself into—in City of Margins, it was Mikey, and here it's Lily. I enjoy writing about characters who are on the ropes, who are facing down grief and loss and disappointment, who are reckoning with who they are and how they might survive. Usually, it's some mix of young people yearning for escape, for something different and new, and older people, resigned to their stations in life. Again, I think it's what I've always most responded to as a reader and viewer, so it's what I'm drawn to as a writer. I like looking for hope and humor in the darkness, too.
FR: Who was your favorite character in the novel and why?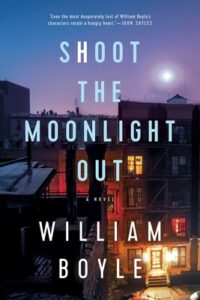 WB: Oh man, it's tough to pick. There's a balance there. I don't know if I could name just one, but I feel like the relationship between Jack and Lily was my favorite part of the story to write, a father who's lost his daughter and a daughter who's lost her father, and they're both searching for something. I saw it as this kind of love story born of what they both desperately needed in their lives. I guess maybe, if I had to choose, I'd say Lily was my favorite overall. They say never to write a character who's a writer, but that's bullshit and I liked writing this character who was just starting out as a writer, faking it, absorbing everything around her, trying to make sense of the world and her own identity and storytelling. The makeshift writing classes in the church basement were a lot of fun to write.
FR: It was really cool to hang out and meet you when I was down in Tula and Oxford last October. Much like myself being from Boston I stick out like a sore thumb in North Dakota. Even though you are living in Mississippi now, you are a New York kid. I could see it and hear it. How's that transition for you? Can you see and feel Brooklyn better from afar when writing your stories and books?
WB: Yeah, man, that was a lot of fun. The longer I stay here, the weirder it gets to identify as a New Yorker living in the Deep South. I came down to Oxford because I loved Larry Brown and Barry Hannah and R.L. Burnside and Junior Kimbrough, so I always have that foundation here. Oxford is a relatively small college town with a great bookstore (Square Books) and a great record store (The End of All Music, where I worked for seven years). In a lot of ways, it's what I dreamed about as a kid in Brooklyn who wanted anything other than cracks in the sidewalk and bus rides and trash in the streets and my decaying neighborhood. I've made a lot of great friends down here. The other side of it is I'll never quite feel like I belong. I have this ache for New York, which will always be my home, and I miss it and I love it and I hate it. I don't know how much longer I'll be in Oxford. I go out to Square Books for a reading and hang out with my pals at City Grocery, and I feel like I never want to leave. Other days, though, when I see Mississippi in the news for the reasons it is most often in the news, the good stuff drifts away and the bad stuff comes into focus, and I feel a sort of desperation to get out. That Bob Dylan line plays on repeat in my head: "I stayed in Mississippi a day too long." But, in the end, writing about Brooklyn from down here has been a key ingredient for me. I don't know what my books would look like if I'd stayed in New York. Something just clicked for me.
FR: Much like myself you are a big movie buff, probably way more than I am. How do movies influence your work in general? And which films and/or directors helped shape Shoot the Moonlight Out if any?
WB: I made a list of all the movies that helped shape SHOOT THE MOONLIGHT OUT. Some of them are direct influences; others are just echoed visually or tonally in the book. I also got to write a character, Francesca, who wants to be a filmmaker, so there are a handful of instances where she's either talking or thinking about movies. I watch a ton of movies, and what I'm watching always shows up in the work somehow. One of the things I love most of all is going on a tear and watching or rewatching all the films I can by one director and seeing how that impacts me. There are certain directors whose work I'm always thinking about. Martin Scorsese, of course. Alan Rudolph has been a big influence. Kelly Reichardt. Abel Ferrara. Lynne Ramsay. Charles Burnett. Spike Lee. Hong Sang-soo. Brian De Palma. Edgar G. Ulmer. Ida Lupino. The list goes on and on and on. I've loved reading since I was a little kid, but movies were really what set me on fire creatively when I was in the fifth or sixth grade. Discovering film noir. Watching A Personal Journey with Martin Scorsese Through American Movies. That was all a huge awakening for me, and it was movies that led me to the books that would wind up changing my life. Seeing Stephen Frears's adaptation of The Grifters was what made me read Jim Thompson for the first time at twelve years old.
FR: What's your writing process like? I'm sure with work, a family, and everyday life, you have to carve out a special time of day to write your books?
WB: When things are going well, I'm waking up at five and starting to work right away with a cup of coffee and music in my headphones. That's the best way to get an uninterrupted stretch of writing before other stuff needs to be done. I don't have an office. I usually write at the dining room table. Sometimes I go out to coffee shops. On days when I don't have to be at my other job (I'm an adjunct at the University of Mississippi), I try to work until eleven or noon and then I do some revision in the afternoon. When I'm not writing or revising, I'm reading or watching movies or listening to music, and that's all an integral part of the process.
FR: Back to the book for a moment. What I also loved about the book is your use of religious symbols, such as the Virgin Mary statues or the writing class in a church basement. Having grown up in a home with those statues in my yard and a Catholic church on nearly every corner right across from a liquor store, are those things and places that stick with you? Are they natural and authentic to you?
WB: Yeah, I grew up with that stuff all around me. My dad was Scottish and that's where my last name comes from, but I grew up with my mom and the Italian side of my family in southern Brooklyn. Twelve years of Catholic school. Church every Saturday night with my mom and grandparents. My grandpa was an usher. Every time I'm back home, I'm photographing the statues in the front yards of my neighborhood. My mom lives in the house where my grandparents lived for over sixty-five years. It's just as they left it. Crucifixes on the walls. My favorite one is next to the old mustard yellow rotary phone in the kitchen; Christ is missing an arm. There are Sacred Heart Auto League calendars up on the door. Mass cards everywhere. Lots of stuff like that. Even though I'm not religious anymore, I've retained a real sense of wonder for those ornaments of Catholicism. I love the saints. I love the statues in people's yards, especially when they're weather-beaten and chipped. My favorite is one around the corner from my mom's house: St. Lucy with those eyeballs on that plate. I haven't been to church in a while, but I spent so much time there as a kid and everything comes back to me real fast. The smells. Incense and old people and flowers. The poor boxes. The candles. The stained glass windows. The organist. The crying room. The way I tried to talk to God in my head.
FR: What book or books are you currently reading? And are there any coming out soon that you are really looking forward to reading?
WB: I just finished Lewis Shiner's Outside the Gates of Eden. One of the best books I've ever read. No shit. I absolutely loved it. It's almost a thousand pages, and I'm not generally a long novel guy, but I lived inside this one in a way I haven't lived inside a book in a long time. Shiner calls it "War and Peace for the Woodstock generation," which is a good quick pitch. It's about love and disappointment and art and time. I love the characters as much I've ever loved any characters. I miss them. I really feel like I've been living in the world of the novel—I can't shake it. This was the first Lewis Shiner book I've read; I've since picked up everything else of his I can find.
I was on a panel with Kendra Allen at the Oxford Conference for the Book in April and fell hard for her words. Her poetry collection, The Collection Plate, and her essay collection, When You Learn the Alphabet, are both great. She also writes a music column for the Southwest Review. I've loved discovering her work in the last month or so.
I think I'm most excited about my friend Walter Chaw's book on the films of Walter Hill. Of course, I'm excited for the new Cormac McCarthy books that are on the way.
FR: When you go and visit Brooklyn what are the three things you do right away like you missed those things so much because you cannot get them in Oxford?
WB: The things I miss the most are family and friends, food, and great movie theaters. So, right away, I'm seeing my mom and my dear pals, my wife's family, and I'm going for pizza, Chinese, falafels, Indian, and to the great bakeries and delis. And then I'm going into the city to see movies at some of my favorite theaters: IFC Center, Film Forum, the Metrograph, the Angelika. You also can't get a good Guinness at a bar in Oxford; I truly miss that. I usually get one as soon as I can when I'm home.
FR: Who are your three favorite crime fiction writers who are no longer with us? And who are your three favorite living crime fiction writers? (feel free to say more if you want.)
WB: Tough to narrow it down. I think I'll have to go with David Goodis, Chester Himes, and Patricia Highsmith for the three who are no longer with us. As for contemporary crime fiction writers, Megan Abbott, Ace Atkins, S.A. Cosby, Alison Gaylin, Jordan Harper, and Nikki Dolson are some big favorites. And, of course, George Pelecanos—it's been a while since he put out a book, but I love his novels, and so many of the writers I love I first read because Pelecanos mentioned them in interviews. One of the best things that ever happened to me was discovering his books at a library bag sale in New Paltz, New York, where I went to college. I scored King Suckerman and The Big Blowdown and was totally hooked. It was through Pelecanos that I discovered Megan, Willy Vlautin, Tom Franklin, Vicki Hendricks, and so much more.
FR: So what's next for you? Are you working on something new? Or maybe you are kicking around some new ideas?
WB: I finished a draft of a new novel, but I have a few things I need to figure out with it. I'm not good talking about stuff before it's all the way done, so I'll leave it at that. I also have the next novel after that pretty much sketched out. And I have ideas for a few more after that. I'm excited about all of them—sometimes my biggest problem is that I get excited too early about the next thing and that makes me wish I was already there instead of knee deep in the mud of what I'm working on.
FR: Bonus question: You are home in New York and Martin Scorsese calls you and tells you to bring over a large cheese pizza and three action movies. What NY cheese pizza will you bring to Marty's house? And what action movies are you going to bring to watch with him?
WB: I have three favorite joints in and around my neighborhood: L&B Spumoni Gardens (great square pie), Totonno's in Coney Island, and Ciccio's. I feel like I might need to bring the Sophia Loren pie from Ciccio's to Martin Scorsese's place. Sesame seed crust, fresh mozzarella, tomatoes, garlic, oregano, and sauce. One of the greats. As for action movies, goddamn, it'd be stressful to pick out any movies to watch with Scorsese, who's forgotten more about movies than I'll ever know, but I think I'd go with Michael Mann's Miami Vice, Kathryn Bigelow's Point Break, and Tony Scott's Unstoppable. I'd be interested to see what he thinks of all of those.