A word first:

Everyone talks about these uncertain times. When were they ever certain? What's certain is it's not everyday I get to interview an icon who's also a personal hero like Catfish McDaris. An honor.

– Guinotte Wise.
GW: How has Mr. Catfish been handling his writing and staying at home?
My wife, Aida has me cutting patterns for face masks she's sewing for the VA Hospital. Our daughter is a cop, so we will be supplying the Milwaukee Police with masks too.
I have been concentrating on three novels that are in various stages of rewrite. I do get strange requests, I got one from Alternating Currents that wanted me to compare Wyatt Earp to the Beatniks. I tried two angles, that didn't cut the mustard. I think I've finally come to the conclusion that I'm a storyteller and prefer flash fiction over poetry. I just got a copy of Big Hammer #21 from Dave Roskos, where I have two poems. Also I got a copy of On The Bus #24 from Bambi Here. A copy of Concrete Mist Press Anthology with Heath Brougher.  And Angel's Share Press #1 & 2 with K.W. Peery. And a copy of Ethel Zine #5 with Sara Lefsyk. A few new chapbooks too. War of the Ghost Elephants with Concrete Mist Press. Meat Grinder with Donald Armfield, Impeach The Motherfucker and The Ass Of The Statue Of Liberty from Analog Submission Press. New Mexico Zia and Magic Coyote Rain Dance from Holy & Intoxicated. I have probably missed a few and haven't counted any mags on line. I have Café Review and Chiron Review and Gobshite coming soon. (Maybe) I don't really submit like I used to and still get many rejects, when I do.
I still run a third of:  http://ppigpenn.blogspot.com/ with Mendes Biondo from Italy and John D Robinson from England  I also help Mendes run Ramingo's Blog from Italy. And I'm contributing odditor from the Odd Press in  Kolkata, India.
GW: You say your daughter is a cop. How is she doing in this current climate? Is Milwaukee undergoing a lot of protest? Do you worry about her?
Yes. Elizabeth has been a beat cop almost 2 years. She's 5'7" and 120lbs. She speaks fluent Spanish due to her Mexican mother, but looks Anglo, so the 2nd District in Milwaukee uses her language skills. She loves her job and she is a good shot, but hasn't ever drawn her weapon on a human. Milwaukee is slowly calming down after some intense rioting and looting. We do worry about her. Eli was working 4PM to 4AM, but now she's back on a regular shift. 4PM to Midnight and the bars close at 2AM, so it's safer for her.
GW: You used to work at a Korean wig shop in a broken window part of town. Was that, like, uncertain? Tell us a little about it.
I worked for 34 years at the Main Post Office in Downtown Milwaukee. Lots of my fellow workers were deaf, so I learned some sign language. Many of my fellow workers were Koreans and my pal, Kwang Lee had a tiny store. After we retired he bought a wig store on the North Side and it was in an extremely dangerous neighborhood. Because of drugs and liquor stores. Black ladies were our main customers, most of them carried guns or their men did. On my second day a lady dropped her purse and a loaded 357 spilled out on the floor. I have always been good at speaking to people and got along well with folks. I was a natural salesman. Riding a bus to work was at times hairy and treacherous. Kwang ended up giving me rides, since most of the ladies requested me.
GW: Uncertainty reigns these days. About the most secure job a guy could get back in the day was on the railroad or at the post office. You and Bukowski worked at the post office (hey, so did I, but that's another story). Tell us why. And talk about that job some.
I got points on the postal test from my army discharge. It was monotonous work. Zip code madness between the workers with a militant union and the Junior Hitler bosses. It was war. If you had a thick skin and used both ears, you could survive. The money was good. I worked 97 days in a row, 12 hours at a time. I worked every day in December for 34 years. I got snowed in at work once, for 29 hours. We had shoot outs, murders, anthrax and ricin scares. When they captured Dahmer, we got at least four or five bomb scares a week—folks wanted to mail him an explosive package. I made it, and that's plenty.
GW: You and the missus spent a lot of time in Mexico. While there, you danced with Frida Kahlo's ghost and waltzed around Trotsky's quarters some. (Your Frida book, by the way, was killer)
My wife, Aida Elizabeth Aguayo was born in Mexico City and lived there with her family until she was 13. Then they moved to Guadalajara. We met in Mexico and married in 1983 in the church there and the court house, in Milwaukee. Aida has lots of relatives in Mexico City—we visit often and go to Casa Azul there. Frida's house, now a museum. Trotsky's fort-like house is three blocks away, where he was assassinated. The entire area is inhabited by tile and pottery makers. I could spend weeks there. Frida is right up there with van Gogh and Picasso.
GW: You used to break horses and paint flagpoles as I recall, in New Mexico. A little about that, please, and other stuff you did in The Land of Enchantment.
I learned about horses from Pueblo friends, my dad, my cousins, and my sixth-grade teacher B. J. Pierce, a world champion roper that just died in Clovis, New Mexico. I was building taller chimneys North of Albuquerque and got invited to pick apples and do some riding up near Farmington, New Mexico. We camped and rode and caught a few mustangs and rode around the Four Corners area, into the Painted Desert and Grand Canyon.
Before I married, a Milwaukee Texican pal and I went to visit his grandmother in McAllen, Texas. We were supposed to get jobs on shrimp boats. We thought you go out on boats in the Gulf and spread nets and come back in every day. We found out, the ships sometimes were gone for months all the way down South America. You most likely carried drugs and got washed overboard at least once a week. That's when I discovered my pal couldn't swim. We couldn't find work and almost got jailed for eating green unripe oranges. Finally I found a job painting flagpoles, my pal was also afraid of heights. A giant crane would lift me up and I'd attach a leather seat and safety harness and straps for my paint buckets and brushes. That Texas wind got fierce, I shacked up with some nudist surfer ladies on the South Padre Island beach. You know all work and no play…
GW: What's that cross Zia thing on the New Mexico license plate all about?
Zia means the sun. To me, being 66 and born on Route 66 in Albuquerque. The Zia means my soul being warmed by the sun.
GW: Were you enchanted in New Mexico?
Yes! I still am I think.
GW: What's your latest book?
New Mexico Zia  (Cover and first pages shown below)
GW: What are you working on now? Seems I heard something about novels.
I have a western going. A hunting tigers novel. A Mexican magic novel.
GW: What music, if any, do you listen to these days? These uncertain days.
I like Red Hot Chili Peppers, Willie Nelson, Rage Against The Machine, Joe Satriani, Jeff Beck.
GW: What words of wisdom do you have for fledgling poets?
Have fun with it. Keep going, don't let rejects get to you. Try some open mics. Write flash fiction too.
GW: You have garnered some impressive awards over time—which one pleases you the most? 
My favorite award was the Uprising Award from Rhodes University, I received in 1999 for short fiction, it had a small monetary prize too. The proudest writing I ever did was a western novel I wrote and got the approval of my mother and grandmother. It got accepted in NYC by an agent and was to be made into a movie, but the agency turned out to be a house of cards. 
GW: That collection of your work that's at a university—is it available to anyone to see? What all is in it?
Some 30 years of work is at Marquette U. Special Archives in Milwaukee and if you click around on the Marquette University site, you can see print and electronic stuff. I have two big boxes of new books and the archivist was on her way to our house with a fat check when Corona happened. JRR Tolkien's original manuscripts are at Marquette also.
Catfish McDaris Collection Biographical Note/Scope and …
www.marquette.edu › library › archives › Mss › CMC › CMC-sc
CLICK on each 1-5 Series to examine the mss.  5 is electronic words
GW: Finally, your latest?  And thanks, man. 
I will end with one of my latest flash fiction pieces and the first poem in New Mexico Zia:
The Impala
Ricky my older cousin loved the needle. Heroin, morphine, speed, LSD. He tried them all. I found him in the backseat of his sixty-three Chevy Impala, the needle buried in his freckled arm. He was frozen dead. We were in Denver in February. I took him to a bench in front of a hospital near Larimer Square and bundled him up in his favorite Navajo blanket. It was just before the sun rose above the Rocky Mountains and before there were cameras placed in all strategic locations. Ricky was my hero, but even heroes go down a dark path. I called his father in New Mexico, he told me he'd take care of the funeral. He said Ricky would have wanted me to keep the car. I drove up Look Out Mountain and looked at all the white crosses and plastic flowers that showed where dead folks met gravity down a steep drop. Coors Brewery was below, none of the Mexicans would drink that horse piss. Adolf Coors refused to hire Mexicans, so everyone drank beer from Milwaukee.
I was working day labor at the time. I worked cleaning concrete off bricks, until I discovered I was making seven to nine cents an hour. Then I went to a metal bending factory. I'd place small pieces of metal in a machine, then mash a button with my foot and the machine would go plunk and shoot the bent metal to a bin. I noticed many of the men were missing fingers and the pay wasn't that hot.
My aunt had married a Mohawk that walked the steel girders in Brooklyn. There was a twenty-five-story bank going up in Denver. They needed an elevator man to distribute heavy steel metal door frames on each floor. I told them I'm your man. They were skeptical, I was stronger than I looked. I had no fear of heights. I soon had a regular job, an apartment, a beautiful lady, and plenty of money. I'd watch the sunrise over the foot of the Rockies and miss Ricky.
I dozed off on the twenty-third story, leaning against a girder. I woke up and it smelled like Sunday.
New Mexico Zia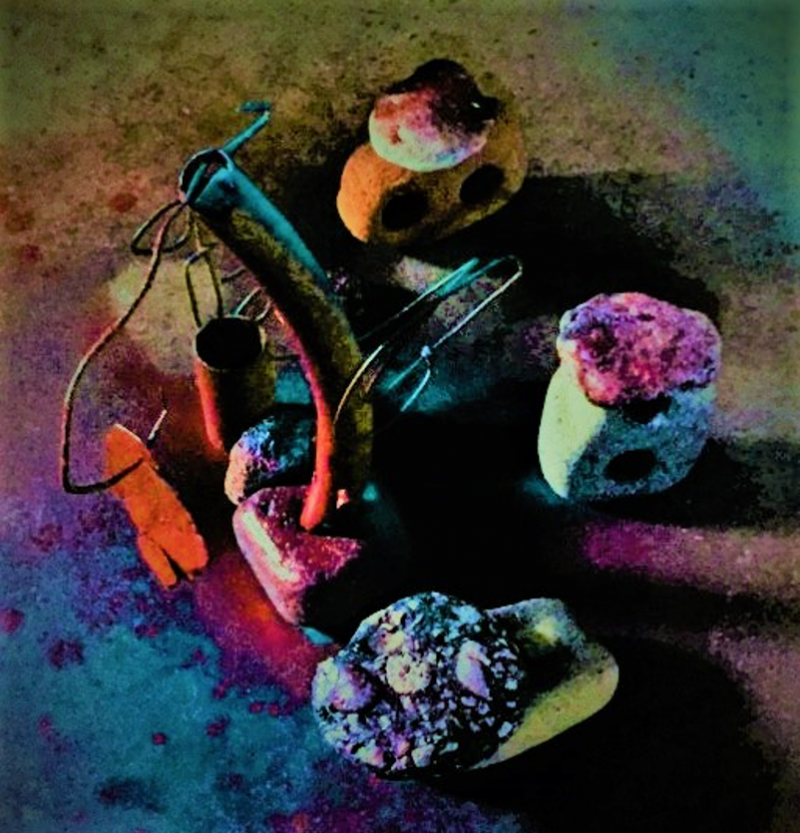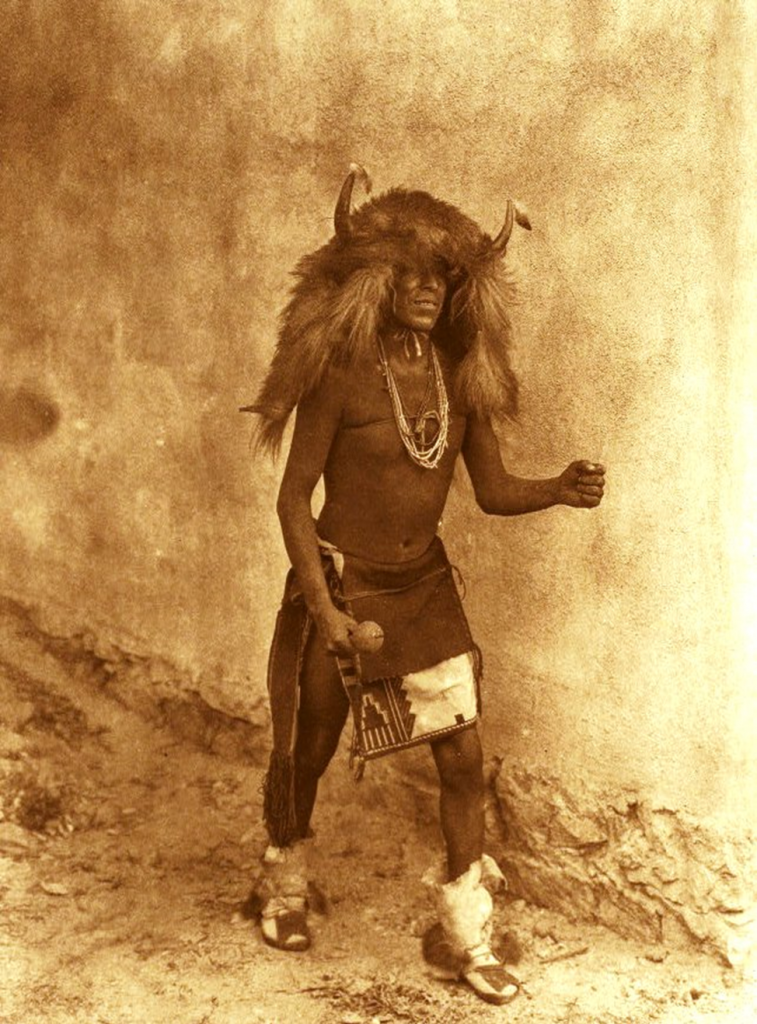 Mephisto Fandango
The dawn sunlight danced through
the prickly pear spines creating
shadows and rainbows on Ramona's
sleeping face, she had suggested we
Use the cacti to protect us from night
creatures, I got up quietly and built a
mesquite fire, we had trout we'd caught
I rolled them in corn meal, salt, and chili
I could see Ramona's nostrils dilated and
a smile was splitting her face, I asked her if
she had any dreams, she said no, I told her
about mine, while in the army we played
Poker in big tents, there were big snow
storms where I was stationed, the same
place as Elvis Presley, she took over the
cooking, knowing that sometimes my dreams
Were long winded, I told her we ran out of
beer, so we sent Fatty to buy a case or two,
he got his name from being a fat fucker, we
waited and waited, finally we all went looking
For him, there he was lying in the road, with
beer cans everywhere, he was moaning and
groaning, there was a tire track across his fat
belly, we all gathered the beer, but Fatty died
"That was damn near you're longest and most
boring dream story ever," I put on some White
Stripes Seven Nation Army and Jolene, we had
fish, danced our asses off, and smoked a phatty.