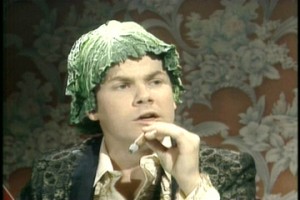 Some neurologists in Arizona (the old-folks state) got a bunch of senior citizens together, probably at a Bingo Hall or an Andy Williams concert and studied what they ate and how well they functioned cognitively. Turns out, folks over seventy who eat more than 2,142 calories a day suffered increased risk of mild cognitive impairment. That means when these oldies ate more food, they got more dumb. The ancient overeaters got so dumbed up on hamburgers and McFlurries that their food-borne stupidity was noticeable in their speech and behavior and not just on some microscopic chemical level that only geeks care about.
"I gave grandpa a meatball sub and he immediately petted a rabbit too hard," said this guy in my neighborhood who sometimes steals the lingerie catalogs out of my mailbox.
As young people, with long supple legs, full heads of hair, our lives spread out before us unceasingly like the mighty Pacific ocean, we can eat ham shanks and lamb shanks or any shanks at all really, and not suffer from anything but obesity and heart disease and maybe reduced brain function due to a poor diet, but the calories do not cause us to have mild cognitive impairment. That's only for the old people, just like Sixty Minutes.
Here are some things that young people should take from this study:
1.) Leading a healthy lifestyle today may prevent Alzheimer's and dementia in your old age.
2.) If you are going to try and cheat old people out of their money, give them pie first.
3.) If you are going to smother an old person with a pillow, would it hurt to make some reassuring "shushing noises" while running your hands through their greasy, greasy hair?