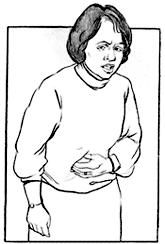 Researchers, probably looking for an excuse to hang out at the beach, found that people who linger in wet sand are more likely to get a stomachache than people who stay on the dry sand.  This comes at the end of a two-year study done by the University of Florida on the effects of beach sand on the human body.  Studies like this do not help the University of Florida fight that old party-college image.
According to the study, a person who sat in wet sand for ten minutes had a whopping .06% chance of catching gastroenteritis but if that person were to wallow madly for two hours in the wet sand like an irate walrus, there was a twelve-percent chance of contracting stomach flu. And if you went swimming the chances for stomach flu were higher, based on the amount of time you spent rooting around in mud.
After two long years, the researchers don't know if getting sick is a natural response to placing your prostrate, half-naked body in shoreline muck or if the shoreline muck has an unnatural pollutant in it. (As opposed to natural pollutants such as dead fish and plant matter).
I think that there could be an argument that anyone who spends two hours flopping about in gloppy, seaweed-lined tidal crud maybe deserves a little tummy ache. I'm not going to lead that argument, but If I were taking part in a debate where I had to defend grubby seashore floundering, that would be the first set of talking points that I would prepare a defense for.